Standard Restaurant
Standard Restaurant is an integrated solution for small restaurants and bars.
Feature list
Fully customizable interface for entering table orders
Ability to split table orders
Saving table orders for later additions
Assigning table orders to different members of staff
Mixed payments (e.g. cash, check, credit card)
Tax handling
Automatic receipt printing
User-definable stationery
Reports include Restaurant Journal and Restaurant Daily Statistics
Design your own invoices and give them a special touch with your company logo. Besides that, you can customize all other documents that Standard Shop prints out for you.
Standard Restaurant is a part of the award-winning Enterprise family of solutions from HansaWorld.
You can upgrade and keep your data to get:
Multiple companies
Multi-user environment
Integrated CRM
Clients for Windows and Linux
Mobile access for reporting and key roles for iPhone and iPad
Verticals including: POS, Job Costing, Restaurant and Hotel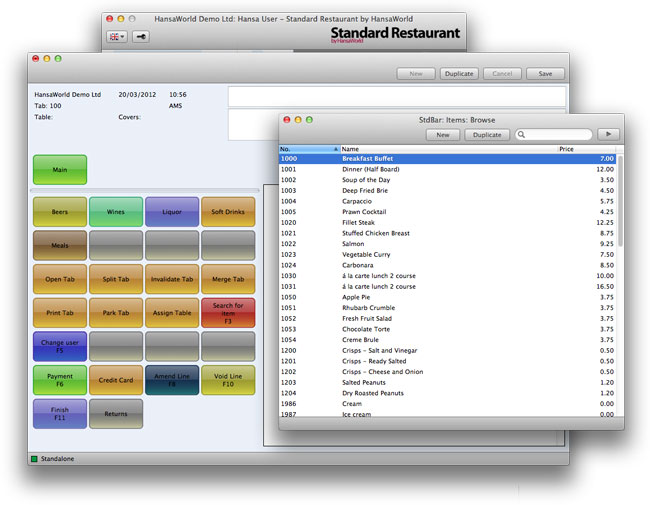 Back
-->
Multi-Currency
The Multi-currency In-App allows customers and vendors to be linked to different currencies. You will be able to issue invoices and to receive vendor invoices in those currencies. Reports such as the Accounts Receivables can then operate in your base currency as well as in any foreign currency.
If you have subscribed Multi-Currency In-App in a Base Package, you can find Currencies and Exchange Rates registers in system module. You will also find Currency fields on Invoice and Contact records and new report Exchange Rates in Reports list. If you subscribe Accounts Receivables, Accounts Payables, Quotations, Sales or Purchase Orders, you can use different currencies in all those modules. For example, you can create sales invoices and register vendor invoices in United States Dollars. If you specified currency on the contact record and filled in Exchange rate, items will be pasted to the invoice in foreign currency.
Features:
Create invoices in different currencies
Register vendor invoices in different currencies
Track currency fluctuations
Run reports in different currencies
Registers:
Currencies
Exchange Rates
Reports:
Forms
Forms editor allows you to customize your documents.
You can move, add, or remove fields and include your company logo to be printed on the documents.
With the in app forms, you get in your base package the register "styles" where you can define the styles that will be used in your documents.
The second register you get is "forms"
This allows you to edit one of our existing forms and personalize according to your needs.
If you subscribe to Forms and any module in-app, the registers forms and styles will be available in the system module.
Registers:
Number Series
Define separate ranges of numbers for documents issued within the application by subscribing to the Number Series function. You may need to specify separate numbers for different periods or to categorize your documents, eg. different numbers of documents per each company department.
Settings:
Number series – Invoices (basic package)
Number series for other subscribed modules: f.e Payables