Standard Restaurant
Standard Restaurant is an integrated solution for small restaurants and bars.
Feature list
Fully customizable interface for entering table orders
Ability to split table orders
Saving table orders for later additions
Assigning table orders to different members of staff
Mixed payments (e.g. cash, check, credit card)
Tax handling
Automatic receipt printing
User-definable stationery
Reports include Restaurant Journal and Restaurant Daily Statistics
Design your own invoices and give them a special touch with your company logo. Besides that, you can customize all other documents that Standard Shop prints out for you.
Standard Restaurant is a part of the award-winning Enterprise family of solutions from HansaWorld.
You can upgrade and keep your data to get:
Multiple companies
Multi-user environment
Integrated CRM
Clients for Windows and Linux
Mobile access for reporting and key roles for iPhone and iPad
Verticals including: POS, Job Costing, Restaurant and Hotel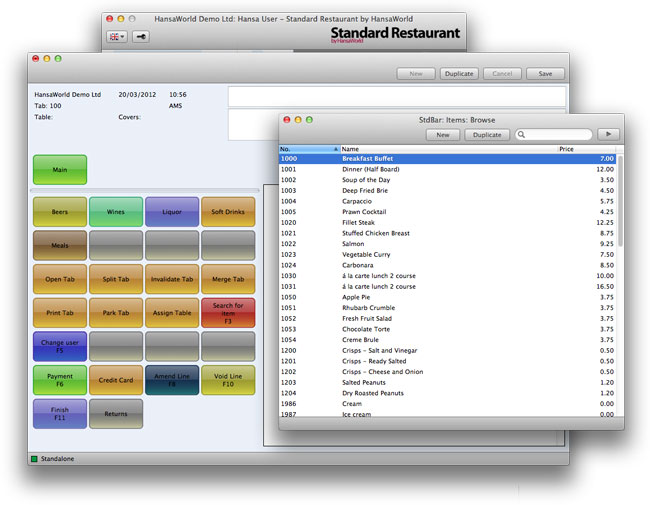 Back
-->
Multi-Currency
The Multi-currency In-App allows customers and vendors to be linked to different currencies. You will be able to issue invoices and to receive vendor invoices in those currencies. Reports such as the Accounts Receivables can then operate in your base currency as well as in any foreign currency.

If you have subscribed Multi-Currency In-App in a Base Package, you can find Currencies and Exchange Rat