Standard family of products
Accounts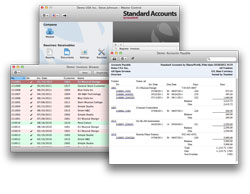 The easy accounting solution with integrated contact management combining Invoicing and Nominal Ledger. 
Invoicing
Sales Ledger
Payments
Purchase Ledger
Purchase Invoices
User-definable Chart of Accounts
Nominal Ledger
Full VAT handling and reporting
User-definable stationery
Debt chasing reports
Expenses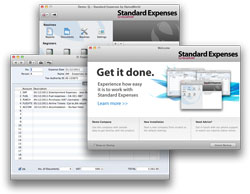 Standard Expenses provides an easy to learn
and easy to use solution to help with processing
your expense claims. 
Record your Expense Claims
Process Personnel Payments
VAT handling
Expenses Journal and Personnel Payments Journal Reporting




Hotel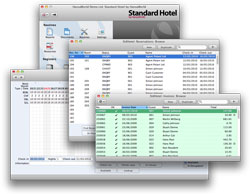 Standard Hotel is an integrated booking and
invoicing solution for small hotels and bed and breakfast establishments. 
Graphical resource planner
Multiple room types and rates
Ability to reserve rooms in advance
Addition of miscellaneous items to room bills
Create and print invoices
Simple workflow from reservation through check-in
and check-out to invoicing
VAT handling
User-definable stationery
Customer Statements
Daily Statistics, Invoice Journal and Debtor List reports
POS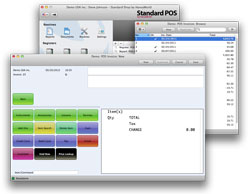 Standard POS is an integrated point of sales
solution for small shops and retail outlets.
Fully customisable interface for entering invoices
Scanning barcodes
Ability to use Touchscreen
Mixed payments (e.g. cash, cheque, credit card)
VAT handling
Automatic receipt printing
Item Statistics and POS Invoice Journal reports
Projects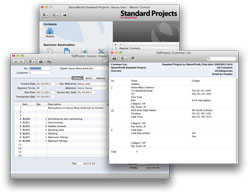 Standard Projects is the ideal invoicing solution for companies carrying out work where time and materials are used.
Quotations
Detailed budgeting
Time sheets to record work done and materials used
Invoicing based on budget or on work done, with deposits if required
VAT handling
User-definable stationery
Customer Statements and Debtor List
Restaurant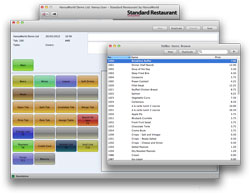 Standard Restaurant is an integrated
solution for small restaurants and bars.
Fully customizable interface for entering table orders
Ability to split table orders
Saving table orders for later additions
Assigning table orders to different members of staff
Mixed payments (e.g. cash, cheque, credit card)
VAT handling
Automatic receipt printing
User-definable stationery
Reports include Restaurant Journal and Restaurant Daily Statistics